28 Aug

Outdoor: Consumers´ Purchase Planning: digital media play a crucial role – potential for brands and retail

The management consultancy of benchex is investigating with the DCI Report (dci.benchex.de) which strategies are chosen by 30 outdoor brands [1] and how these operative measures are put into place.  Around 80 indicators per brand are collected from the different areas of their website/shop, online marketing, social media and mobile. These are added to an index.
Digital marketing plays a central role in consumers' research, in other words before the actual purchase. Brand and retailer homepages are the most important sources of information (benchex investigation of 1000 consumers)
The homepages of 30 outdoor brands in Germany have on average around 50,000 visits every month – excluding positive and negative outliers – and therefore constitute a marketing instrument of great scope with the possibility of communicating their own content unfiltered to the target market
Outdoor retailers (Omni channels like Pure Player) are significantly more involved than brands in preparing consumers for purchase – through better organic transparency in search engines and greater investment in traffic (paid search results and display advertising). They achieve a traffic 7 times higher than that of outdoor brands (likewise excluding outliers)
Mobile phones are the greatest source of traffic for brands and retailers (around 1/3 of searches) – almost ¼ of the outdoor brands surveyed offer no services optimised for mobile devices, relying thus on chance.
Following the benchex consumer study with 1000 consumers, we know that in the outdoor market the decision to purchase is predominantly made online.
Consumers' first searches begin on the level of the category desired (for example softshell jacket) rather than the brand or product.
If you put yourself in consumers' shoes and begin to make a decision to purchase through the market-leading search engine, you will probably first come across the websites of outdoor retailers – it is the outdoor retailers (not the brands) which systematically optimise their presence in search engine results by, for example, investing in content or paid search results.  In the above example: searching "softshell jacket" leads almost exclusively to results of retail companies, which put up relevant content in order to answer consumers' questions and build up expertise on one hand, but also to be found easily by search engines.  Only 8 of the 30 outdoor brands offer relevant content – 7 of them are durable goods specialists.
Retailers are dominating the google-search
Even when consumers search for brand names, the dominance of retailers is clear: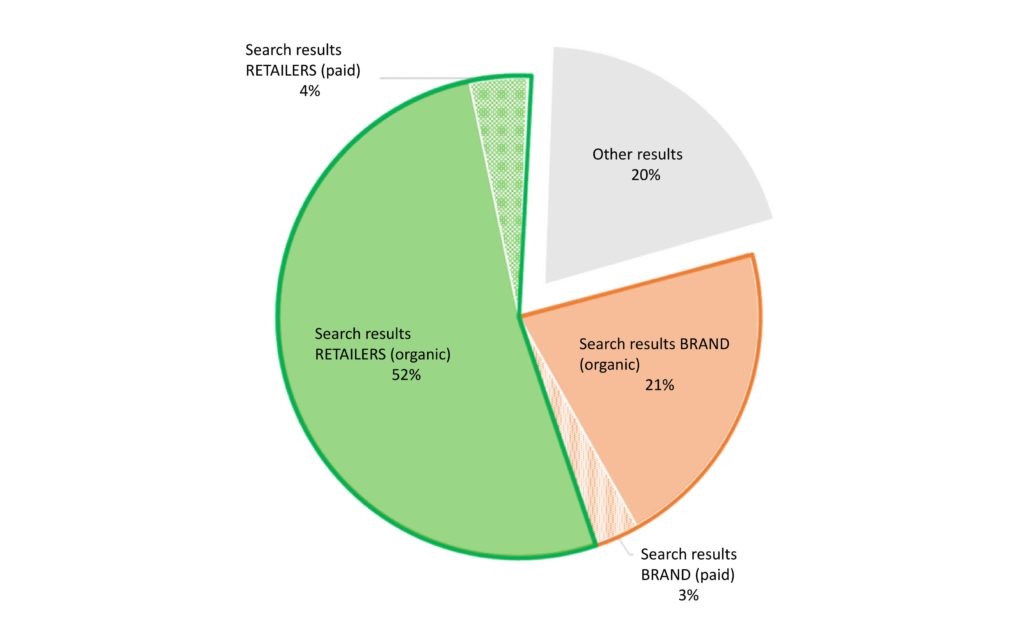 We searched for the manufacturing brands and out of 310 search results 56% come from retailers and only 24% from brands.
The number of searches which brands record on their homepages every month is surprisingly high: excluding positive and negative outliers, an average of 50,000 consumer contacts are recorded on the respective homepages – a great opportunity to convey unfiltered a brand's own competence, market positioning and, naturally, products and technologies.
34% of these searches take place on average using mobile devices – even more astonishing is that 23% of brands don't run a mobile-compatible homepage and therefore lack optimal legibility and user experience in 1/3 of cases.  Brands even entrust investment in traffic (paid search results and display ads) largely to online retailers, which means that a consumer's online decision making process is clearly dominated by retail.
We were surprised that almost all of the 30 brands can be found on the large social media platforms Facebook and YouTube: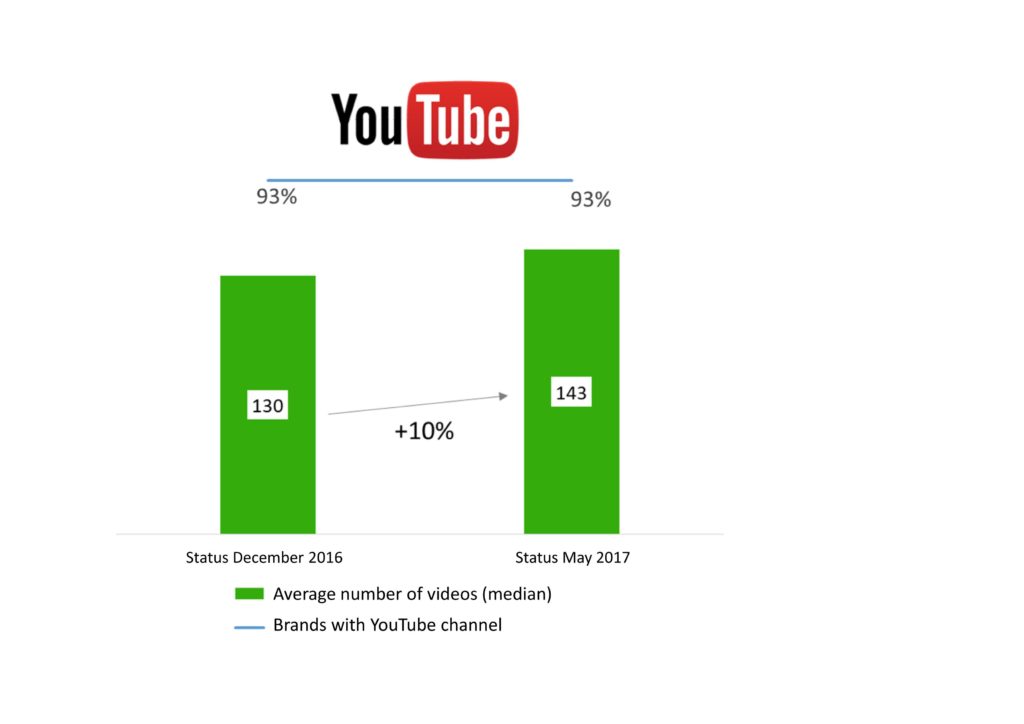 While in the months following December the quota among brands active on YouTube hasn't changed and the average number of videos increased by 10%, a more significant dynamic can be seen on Instagram: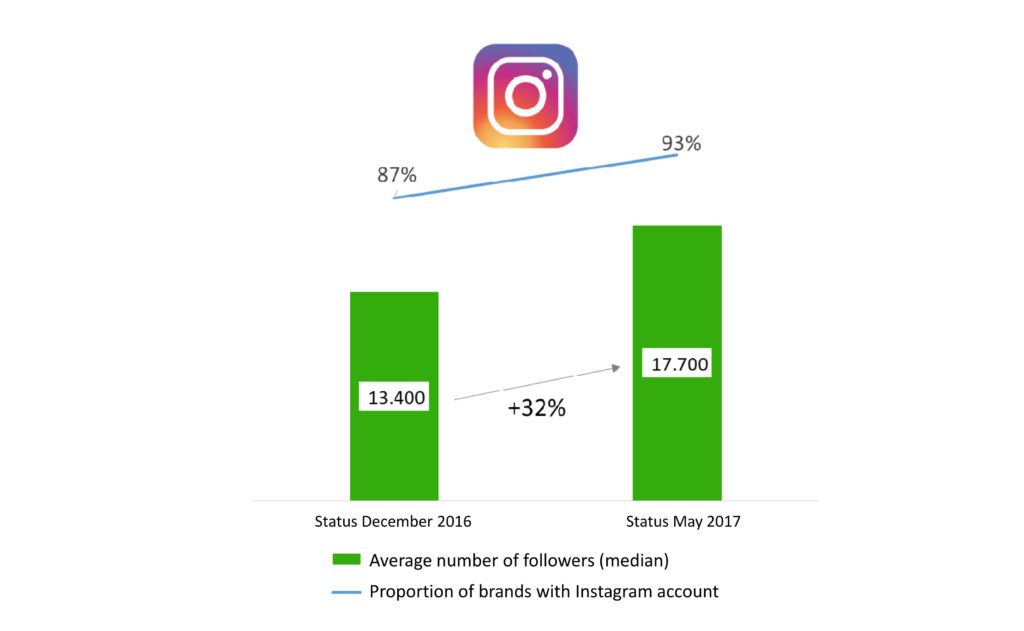 Here the number of followers increases on average by around a third and more brands are drawn to Instagram.  Hence 93% of the 30 brands surveyed are active on Instagram in May.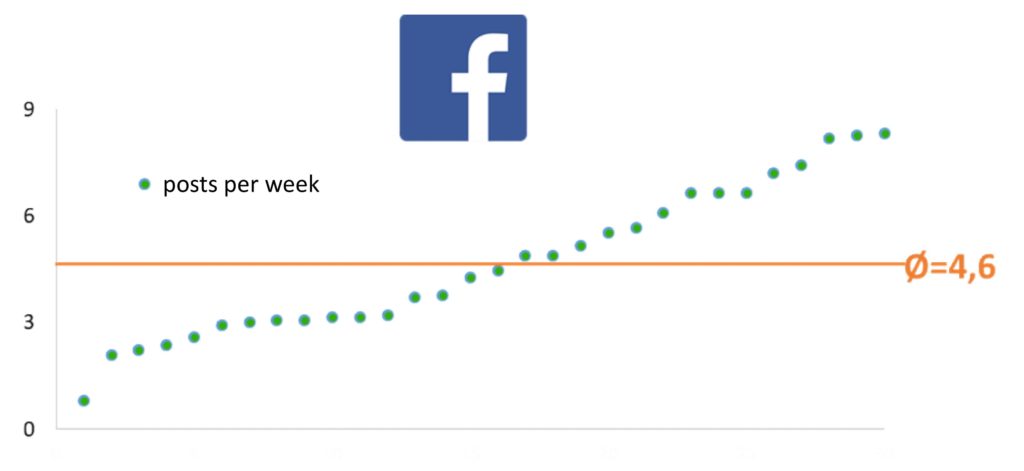 The above graph displays the activity level of brands on Facebook: the difference between the "quietest" and most active brand is 0.8 versus 8 posts per week.
In terms of social media activity there are large differences between the brands – from brands which haven't posted on Facebook for months to brands such as Jack Wolfskin: with the campaign Go Backpack the brand is aiming at a young target audience on social media channels and relies among other things on the widespread recognition gained through bloggers.  Additionally, the brand has laid down an "out sale impulse" – a product must first be bought before you can be refunded the purchase price through uploading videos of your travels.  Social media also supports the aim of targeting a younger market: around ¾ of German Instagram users are under 30 years of age (source: Statista Oct 2016).
Conclusion:
On the outdoor market consumers rely heavily on digital media and use the digital content available to prepare themselves for purchase – irrespective of the previous place of purchase (on- or offline).
This presents a great opportunity for brands and retailers, since with good digital services (homepages for computers and mobile phones, social media etc.) you can position yourself well among consumers who are in search mode and thus influence their decision to purchase.  Both brands and retailers should be aware of the role of digital media in their respective situations and business models, and integrate them into their marketing initiatives accordingly.
As with all marketing areas, the following applies for digital activities:
Measures should be drawn from a well-reasoned strategy – formulate goals and verify whether the respective on- or offline activity contributes to the attainment of these goals and how this can be measured.  Simultaneously you should be thinking throughout the consumers' decision making process – try to post different messages in the appropriate social media channels throughout the process.
Contact:
benchex GmbH
Christoph Krauss
c.krauss@benchex.de
040/348092-68
dci.benchex.de
[1] In alphabetical order: Arcteryx, Bergans, Berghaus, CMP, Columbia Sportswear, Deuter, Edelrid, Fjällräven, Haglöfs, Hanwag, Jack Wolfskin, La Sportiva, Lowa, Lowe Alpine, Maloja, Mammut, Marmot, McKinley, Meindl, Mountain Equipment, Odlo, Ortlieb, Ortovox, Patagonia, Salewa, Salomon, Schöffel, Sherpa Adventure Gear, The North Face, Vaude